Last month, I wrote about avoiding synthetic sunscreens (read post
here
) and provided 2 safer alternatives to chemical sunscreens.
Personally, I use mineral sunscreen for face and I am using up the
one
I got from Jamacia for body.
On one of my random online shopping rave,
I chanced upon and bought one of Human Nature's latest product: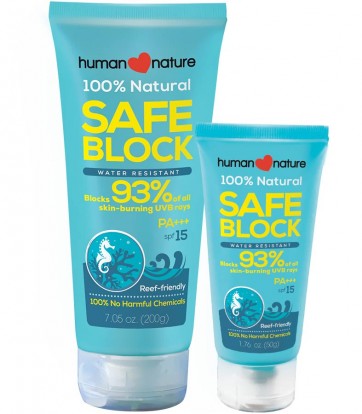 "Save our skins, save our seas!"
Be a good seatizen and celebrate the exuberance of summer with SAFEBLOCK, a100% natural, broad-spectrum, reef-friendly family sunscreen.
Don't see double − SPF30 doesn't mean twice the protection of SPF15.SAFEBLOCK's SPF15 already blocks 93% of UVB rays, while SPF30 actually only blocks 4% more!
Apply liberally to exposed skin.
Dermatologists recommend waiting 20 minutes after applying sunscreen before exposure to sun.
Clinical tests show that SPF15 may drop to SPF13 after 80 minutes of swimming. Reapply after swimming, sweating, toweling or as needed.
Don not stay too long under the sun even while using a sunscreen.
Cocos nucifera (coconut) oil, zinc oxide, hydrogenated castor oil, Ricinus communis (castor) seed oil, Helianthus annuus (sunflower) seed oil, caprylic/capric triglyceride (coconut-derived), dicaprylyl ether (vegetable-derived), beeswax, Glycine soja (soybean) oil, oryzanol (rice-derived), fragrance (all-natural), glyceryl caprylate (coconut, palm and glycerin-derived), tocopherol, anisic acid (anise seed-derived)
Benefits:
Armors skin against aging UVA rays with PA+++ rated protection

Blocks 93% of skin-burning UVB rays

Cares for our coral reefs with only all-good, sea-safe natural ingredients
Smell:
Somehow, to my nose~ the scent smells like Grape Hi-chew.
Cost:
From $14.90
Product Rating:
8/10
It works well as a sunscreen for swimming, I used it while I was snorkeling in Cebu and I didnt even end up with a burn or tan! I love that it contains natural ingredients that not only makes it safe for us but also for the reefs and corals! So~ Plus points!!!
As for the texture, I knew it would be oily considering the ingredients used in this product. A combination of both mineral and natural oils are used to combat against the harmful rays, I can see why this product is water resistant and effective in protecting my skin against the burn~ A thing to note is that it is important to shake and stir the contents in the tube before application if not, this is going to happen is this:
Hahaha! Yup~ Besides that, I would also recommend layering the sunscreen bit by bit rather than applying a thick layer in one shot. It makes application easier and smoother!
(This is how white it will be when you apply a thick layer and it will take awhile to blend it out)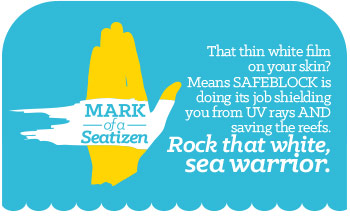 This product leaves a thin slight whitish layer on the skin (sunscreen is applied on the whole face, thickly over nose & cheek) without feeling oily after application. And as with all sunscreen and makeup, make sure to remove them thoroughly and properly by the end of the day!
NATIONAL DAY PROMOTION
Get $5 off when you purchase $49 and above (Promo Code: NDP49)
Up to
49% off
on Mineral Make-up Care!
(
Read my reviews
on Human Nature's Mineral Makeup!)
Shop now at Human Nature's website: