It's no secret that I totally love Human Nature,
not just because it's a social enterprise but also because of its products!
Click
here
for all of my Human Nature related post!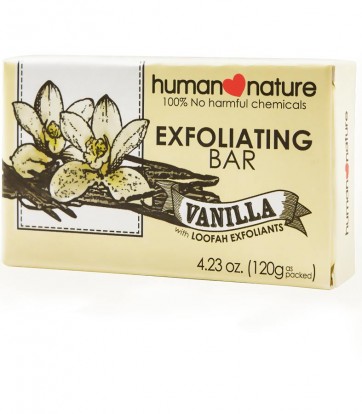 Surrender yourself to the sheer delight of our 100% Natural Exfoliating Cleansing Bar and experience skin love that'll give your favourite spa a run for its money.
VERDICT
Texture:
Soft soap when moist, with tiny flakes that helps to exfoliate. Foams well.
Ingredients:
Cocos nucifera (coconut) oil, aqua (water), sodium hydroxide, decyl glucoside (plant−derived), sodium lactate (sugarcane-derived), glycerin, Luffa cylindrica fruit powder, chromium green oxide (CI 77288)

Benefits:
Infused with loofah exfoliants that deeply cleanse and invigorate skin
Cold processed to retain skin−hydrating abilities
Free from harmful EDTA and BHT present in most soaps
Smell:
Mild sweet vanilla scent that isnt too sweet to leave you feeling like a walking cookie, just pleasant enough to smell clean!
Cost:
$6.90 (Special Promotional Price at $5.90 now!)
Product Rating:
8/10
When it comes to bar soaps, I am very particular about how my skin feels after shower. I dont like it when it feels like there is a thin film of coating that most commercial bar soaps leave behind on the skin. So, I was very pleased when my skin feels nice and normal with this bar soap.
The loofah exfoliants are gentle enough for everyday use or for kids to use as well. That being said, if you are looking for something more to really scrub away dead skin cell, a real loofah would work better. Personally, I like that it is gentle and I will just wet the bar and use it to buff and soap myself in one step.
I love that its made of natural ingredients and free of harmful ingredients that may lead to cancer and other illnesses. Plus, it smells pleasant to my nose and it's a joy to wash up with it.
The only drawbacks are that the soap melts rather quickly and ends up slightly too soft as it shrink in size to do a good scrub down. This bar of soap only lasted me for about 2 weeks.