Following up from my Hot Date Beauty Tutorial, I give you another tutorial:
Gala Night!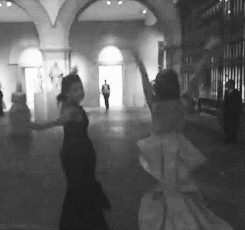 When I think of Gala Nights...
I think of gowns, cocktail dresses, outstanding makeup and pretty hair!

Continue reading to find out how I create a makeup look for a Gala Night!
In a Gala Night event~
The "competition" is about being flashy with the dressing, hairstyle & makeup while looking like you were born with the natural charms of Cinderella.
It's easy to glam up with outfits and accessories, but it's a bigger headache to decide how to style your hair and do your own makeup. Usually for events, I will curl my hair with foam rollers the night before and leave my hair down. I try not to tie or bun my hair up because, I have way~ too much hair and over extended period of time... the weight of my hair will give me a headache. *hairy woes*
So, I tend to focus on makeup to work the rest of the magic.
I will be very thick skin and outright that the best asset of my imperfect self are my eyes.
As an Asian,
I have slightly lighter brown pupils than norm and I make full advantage of what I have and nothing brings out brown pupils better than shades of blues and greens!
Watch the video to learn how I create this makeup look!
Products Used:
1) Becca Nude Liner: Doubled up as cream base
2) RMK Eyeshadow in Iridescent Deep Green
3) Sephora Makeup Made Simple Palette (Eyeshadows & Blush)
4) Red Apple Gluten Free Eyeliner
5) Star Lash Premium Eyelashes (DB17) & Lash Glue (White)
6) Shu Uemura Eyebrow Liner
7) Shu Uemura The Lightbulb Fluid Foundation (564)
8) Dior Addict Extreme Lipstick (339)
Tools Used:
1) 13Rushes Short Shader
2) 13Rushes Angled Mini
3) Maybelline Shadow Brush
4) Shu Uemura Eyelash Curler
5) Boobi Brown Eyebrow Brush
6) 13Rushes Angled Flat Top Kabuki
7) 13Rushes Angled Flat Top Mini
8) 13Rushes Round Cheek


So there you have it!~
I usually go for the smokey eye look or play up with colours for my makeup for events and even Gala Nights!

Hope you learnt something from this!
Until next time~


To find out more about Panasonic's beauty product, view their website page:
Alternatively, you can view their facebook page for tips and tricks; events; news:
And lastly, head over to SBA's Facebook for more updates on the ongoings: