Ever since I was more aware about the ingredients used, I tend to avoid products with synthetic or chemical ingredients. Most chemical moisturizers contain petroleum by-product ingredients like silicone, dimethicone, and other products ending in '-one' to make the skin's surface feel soft, smooth and silky.
As mentioned in my review on
shampoos & conditioners
, these ingredients coats the skin keeping the moisture in but at the same time, can also clog your pores and trap in sebum, dirt and bacteria, thus causing breakouts and allergic reactions in the long run.
Today, I have 2 skin care products that I have added to my regime besides Blissoma SMOOTH, A+ SERUM and they are from...

The first one is Human Nature's Sunflower Beauty Oil: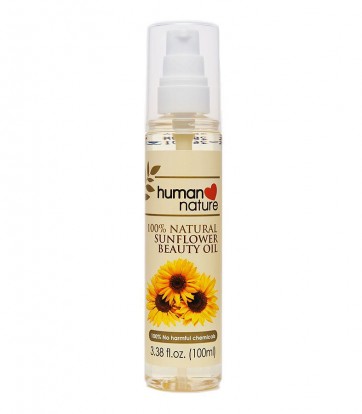 Premium and best-selling Sunflower Beauty Oil is 100% Natural and packed with vitamins A, D & E that help moisturize and nourish your skin to give it that healthy glow -- without any harmful chemicals. It's so effective and so versatile, the uses are endless!
To Use:
Gently massage onto skin day & night after cleansing or apply half a drop all over hair for shine.
VERDICT
Texture:
Light oil, absorbs into skin relatively well


Ingredients: Just the purest, premium-grade Helianthus annuus (sunflower) seed oil

Benefits:
Softens and gives you lighter-looking underarms
Helps lighten dark under eye circles
Helps lighten darks spots and pimple marks
Moisturizes under eye area
Helps prevent and diminish the appearance of stretch marks
Softens feet soles, knees and elbows
Removes stubborn makeup
Can be used as overall body moisturizer
Moisturizes dry hair ends
Softens cuticles
De-frizzes hair
Adds shine to dull hair
Helps relieve itching and inflammation caused by insect bites
Nourishes and conditions eyelashes
Lightens dark lips
Soothes skin after shaving
Relieves itchy scalp
Helps soothe sunburn
Smoothens skin from shaving
Helps soothe rashes

Smell: Scent of sunflower oil!

Cost: From $8.90

Product Rating: 7/10
I'm the kind of lady that likes my product to be as "multi-talented" as possible, when Christine from Human Nature recommended me this beauty oil and I read up on its multiple uses, I was sold!
I like that despite it being an oil, it absorbs well into my skin! I have been using this oil on the ends of my hair, on my legs after shaving, any area of my body that feels dehydrate and even as a makeup remover! It leaves my skin feeling hydrated and soft every morning! However, I dont find it effective in lightening dark circles, scars or stretchmarks.
The second product that I used is this 100% Natural Moisturizing Night Cream with Plant Collagen: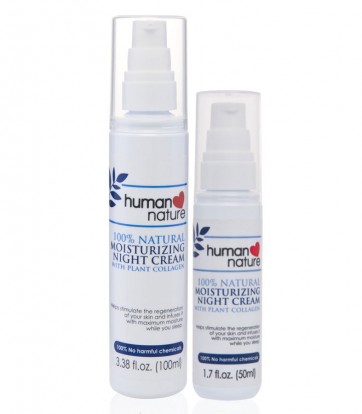 Skincare magic while you sleep! Your skin absorbs the most nutrients at night, so let our 100% Natural Moisturizing Night Cream with plant collagen renew your skin while you're enjoying sweet dreams. With a host of other skin-essential vitamins and minerals, erase all signs of fatigue and tired eyes as you wake up to smoother, suppler skin and a refreshed healthy glow!
To Use:
After cleansing and toning, smooth a pea-sized amount onto your face. Gently massage until fully absorbed by your skin.
VERDICT
Texture:
Light creamy texture, absorbs into skin relatively well
Ingredients:
water, isostearyl hydroxystearate (vegetable derived), dicapryl ether (vegetable derived), caprylic/capric triglyceride (coconut derived), glyceryl stearate (vegetable derived), glycerin, Persea americana (avocado) seed oil, Helianthus annuus (sunflower) seed oil, stearyl alcohol (vegetable derived), Aloe barbadensis (aloe vera) leaf juice, natto gum, tapioca starch, glyceryl caprylate (coconut oil, palm oil and glycerin derived), xanthan gum, fragrance (all natural), anisic acid (anise seed derived)
Benefits: renew your skin; promotes a smoother, suppler skin
Smell: To my nose, the scent reminds me a little of Yakut or yogurt
Cost: From $8.90
Product Rating: 9/10
I was a little septic of this product initially because it was too affordable to be that~ good... BUT I was blown away! Every morning after using this, I wake up to find that my scars are lighter, my skin looks more supple and my skin feels soft and smoother!
Currently, I use
Blissoma SMOOTH, A+ SERUM on nights when I have breakouts (Yes, I still do due to hormonal unbalance) and I use this Human Nature
Natural Moisturizing Night Cream with Plant Collagen on nights to speed up my scar healing process and if I have an event the next day!
Sometimes, my skin gets really good that I can skip concealer & foundation and just use BB cream or powder over for some SPF love! For someone with a history with sever acne, skin like this is a dream! Haha!
Dont believe? Here are some photos I took with no makeup on!
Shop now at Human Nature's website: